Norwegian National Advertising Awards: Gold


Eurobest Shortlistx2 (N/A)
Epica Shortlist (N/A)


Cannes Lions: Finalist x3




The One Show: Merit x2

Historically a rich country, Norway has some of the most delicious trash in the world.
In 2023, NGO Future in our hands wanted to get these delicacies out to those who needed it while also saving the planet.
There's just one problem:

Since the food waste law in Norway is so outdated, picking up food from a dumpster can get you 3 years of jail time. And the grocery chains aren't allowed to give it away.

(stupid for the planet but good for grocery chain ROI or something).
By launching the world's smallest grocery store, we allowed Norwegians to legally pick up expired food for the first time, while making Norway's shockingly boujee food waste problem visual and yummy.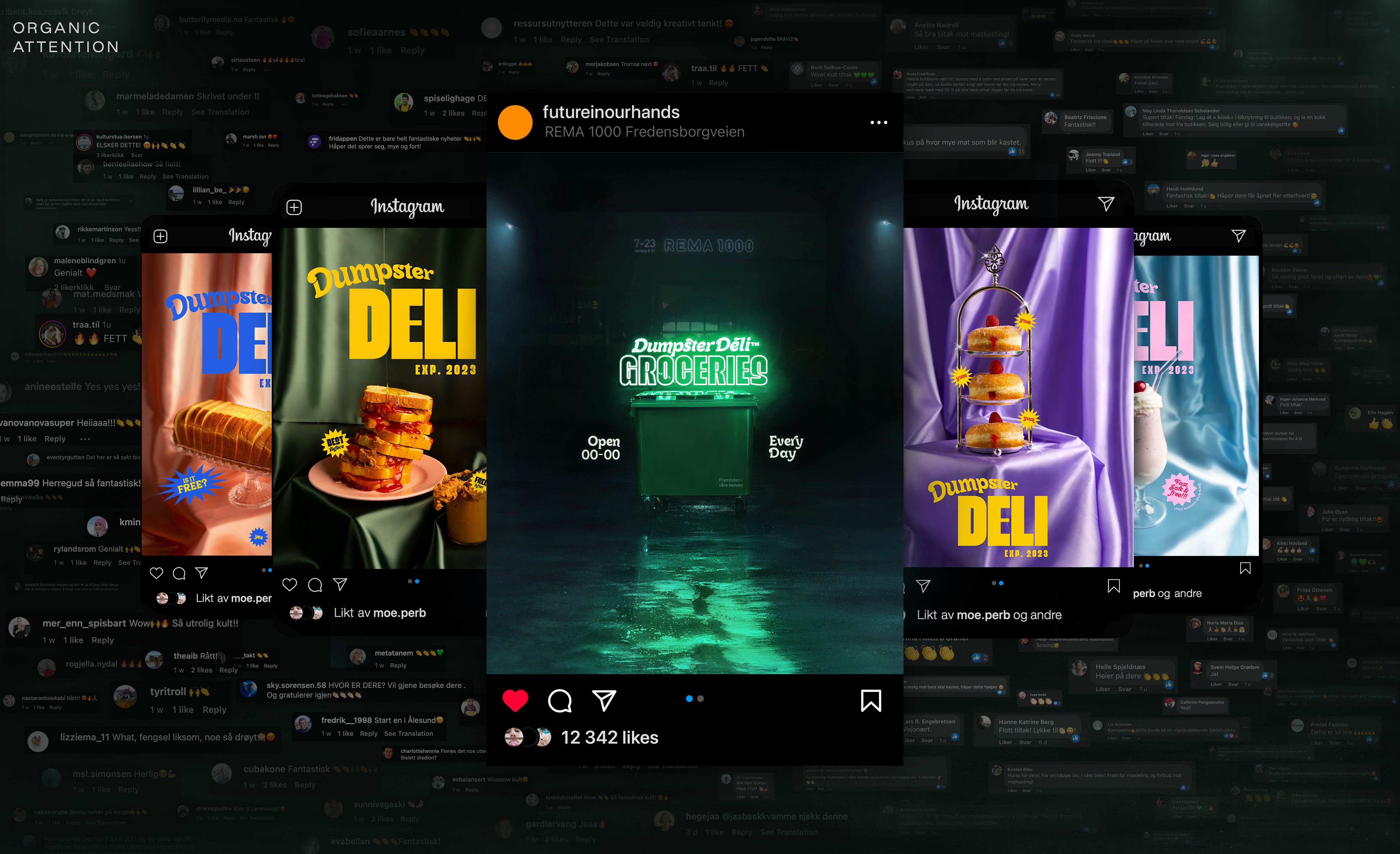 The small Deli was placed outside big food chains, inviting them to discard expired food in our little store instead of in their own dumpsters, hence making it leagal for anyone to pick it up.
︎︎︎ Dumpster Deli made it to the two top national Norwegian TV News stations within 10 minutes
︎︎︎ 4.1M earned media attention in one week
︎︎︎ Reach: 23% of the nations total population



︎︎︎ The Dumpster is still rolling around to new locations across the country
︎︎︎ Several Deli's are now in production
︎︎︎ ...all on a $500 Dumpster budget
Norway is currently legislating a new food waste law
︎

︎
Agency: Publicis Kitchen
Account Manager: Alexander Mostue
Creative Team: Per Berge Moe, Sollin Sæle & Torbjørn Havn
Junior Creative: Gard Bekk Wanderøy
Design: Sollin

︎
Film Producer: Tarek Salim
Film Director: Oma